When I read back to the last blog I wrote in June 2020, I seemed to be doing okay. Our church building was closed along with every other one, and we were managing to worship together at home 'in communion' with one another. Some churches were streaming live services, some were recording at home and then in empty church buildings and some were Zooming together. My tech skills weren't up to much and with nobody allowed to come and show me how, and an elderly congregation not all of whom had computers or tablets, I carried on emailing and posting services out each week.
I was taking part in more Zoom meetings and it seemed so easy really. I thought that perhaps I could do something online after all and with the help of some friends remotely, I put together a midweek service to practice. Folk were invited to come along and 12 said yes, they'd like to have a go. I was up half the night worrying about it, and up early to get dressed as a priest once more, balance the pile of books on which the altar would be laid, and adjusted the camera many, many times to allow folk to see the holy elements. Finally I was ready with minutes to spare. I opened Zoom. This was the first time I'd hosted anything but it seemed so easy before when I'd talked it through with folk. But I did something wrong. I don't know what. But there were two of me in that meeting, one as host, one as participant. And where was this elusive Waiting Room? There were no buttons for Waiting Room. I pressed buttons, I swiped back and forth, I started to get hot under the collar, and the minutes ticked by. To cut a long story short, I lost my mind, as the song goes. The phone began to ring as people said they were waiting to get in and why didn't it work? Was it them? They were so looking forward to it. I felt as if I'd really let them down. The service was cancelled.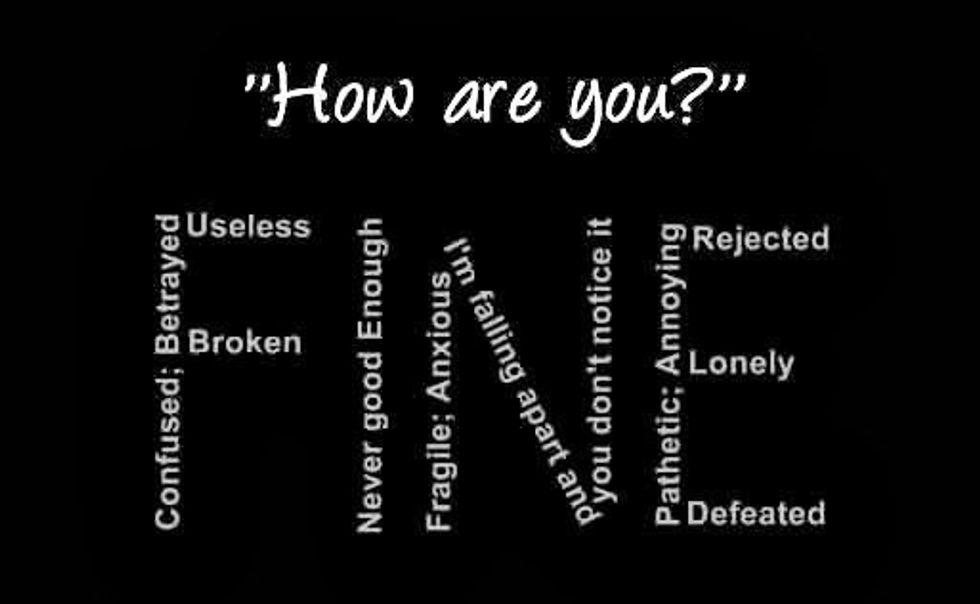 And that is the day I became ill. Not physically ill. Mentally ill. The failed Zoom service was the catalyst. I started to cry about letting those folk down. And I couldn't stop. Every time I thought about it, and yes it did come back to haunt me many times, the burning tears would fill in my eyes and overflow. I had let them down. Some of them lived alone and had been so looking forward to seeing their friends again, and I had let them down. I was too old for learning these new skills and so frustrated that nobody could come round to my house and just show me. The isolation became a black hole and I stood on the edge of it looking down into crippling anxiety. For a happy, optimistic extrovert this was a very new experience. I know about anxiety because some close to me suffer from it, but I never knew it was like this. The fear was overwhelming. Kind words were of no consolation whatsoever.
On top of the Zoom anxiety came the Coronavirus anxiety. I'd been shielding since March and was kind of getting used to it. Statistics were improving, the sun was shining, and we were told to go outside for exercise. Everyone I knew was on social media showing photos of their daily hike, boasting of how many steps they'd taken, getting more tanned in the summer sun and I was bitter. Exercise is hard for me because I have lung disease, and a host of other illnesses which make me overweight and in pain but I made the effort. I drove to a lovely, quiet place and got out to walk. Withing minutes joggers had elbowed past me with no masks, puffing with effort, cyclists sped past with no masks breathing heavily within a few feet. I jumped back in the car and came home. If I get this virus I don't stand much of a chance. I'm one of the ones they talk about who died 'with underlying health conditions'. I added that worry to the pile in my head and it was a bit of a squeeze.
Where was God in this? I'm sure s/he was there somewhere. At least I've told others that. Praying with others made me cry so I stopped doing that. I had a few clergy support groups going on Zoom and I couldn't face them either. I withdrew. How could I tell them I was ill? I mean, I'm usually the life and soul of the party. That's a role I used to play well. So instead of God I turned to my GP who knows me quite well. She told me it was anxiety and not depression and offered me medication which I grasped with both hands. Then for over a month I sat in my chair in the kitchen and did nothing. If I wasn't in that chair, I moved to my granny chair in the lounge and slept. And slept. I slept all night and had to force myself to get up in the morning. The only reason I got dressed was in case someone came to the door. But really I didn't care and all I wanted to do was sleep and hide. I managed to do the service sheets and the sermons and the newsletters full of fun stories to go out each week, but that was all I managed. The other things I had to do or plan lay in my in-tray. It was such an effort to phone my little flock and see how they were and it felt as if I was putting on a mask to be someone else, someone they used to know, just to get through it.
My GP changed my medication and I stopped sleeping. This was good, I thought. But it was just more hours to sit and ponder. I was able to return to my prayer group and support groups, but I didn't want to say anything other than hint that things were difficult. You don't want to bring it up in case it makes you cry again and what if you can't stop? For once I didn't want the attention.
In August the church buildings were allowed to open again but there was a lot of work involved in doing that. Things would be very different. I worked hard in preparing Risk Assessments and I realised that I was frightened to go back into the church building. I was worried that, despite all the new safety restrictions, I would be at risk. I knew that a few of my little flock were not quite as careful as they might be when out and about. I was worried that I was going to have to hand over control to other people to ensure our safety and I've never liked handing over control. Ask anyone and they'll tell you. Would our Sidespeople make sure everyone was wearing a mask properly? Would people always fill up church from the front or would they want to sit where they usually sat? Would they get up and go and chat to friends because they couldn't hear through the masks? Would I have to tell them off if I saw a mask pulled down from their noses because their specs were steaming up? Why was I doing it? Why open when some others weren't? But those who decided to play it safe had good established online communities by that time. I didn't. It turns out my GP was right… I did have anxiety. My pills were put up.
Being back in the church building was actually okay. Yes, there were a few hiccups and as weeks went by the strict rules seemed to relax a bit. We reduced the length of the service, and sermon, and our lovely organists pulled out all the stops to make us feel in the mood, even if we couldn't sing along. It looked as if the 'new normal' was working okay. Nobody was complaining about no biscuits with coffee now. That was the least of our worries. No coffee after and a quick exit was the new way of leaving church. We were full to our capacity of 22 folk spaced out 2 metres apart most weeks. And gradually more folk who had been worried about coming back, gradually came and joined us. My new increase of anti-anxiety meds had started to make me shake and feel worse so the doc suggested another kind which involved slowly coming off the current ones and having a break of a few days before starting the new ones. But when I did come off them I felt so much better. The trembling hands stopped, my diabetes sugar levels sorted themselves out, and I felt more like myself. And I had energy once more. I got my Income Tax Return done with minutes to spare, I cleared out the in-trays, I was up and down off that wretched kitchen chair tidying and cooking and feeling normal again. It was such a relief that I didn't bother starting the new tablets.
It was only then that I felt able to tell some people what had been going on. I don't know why I couldn't do it before but that's how it was with me. I told the Vestry and some friends and of course they were all lovely. My GP was fine about me not taking the pills any more but is there if I need to talk again. Yes, I'm still anxious when I see people breaking the rules but not any more than anyone else. Well, perhaps just a little. I haven't been out for months now and would dearly love to go into a shop once more but I daren't. Not when we are so close to getting a vaccine. My only outings for months and months have been for medical reasons and I so miss seeing people but that's how it is.
Then last week it all flooded back when mention was made of a new strain of the virus. This strain was 80% more virulent. Yes, it was mostly down south but it wouldn't take long for it to reach Scotland. Not while people were gadding about the country because the Government are unable to make difficult and decisive decisions. We'd been promised a few days at Christmas for limited numbers to gather indoors and all of a sudden that was withdrawn. Now only 3 households can gather on Christmas Day. And even then, said our First Minister, it would be better if we didn't. She went on to say that if she had her life to live again one of the things she would change was not locking down sooner. So, on Boxing Day the Scottish mainland would enter Level 4 which is pretty much lockdown again. I thought about my little flock, the vast majority of whom are over 80 and many live alone. If the First Minister was saying we could only meet a limited number of family on Christmas Day, how could I open my church for two services and encourage them all to come and sit indoors with others? I phoned some clergy friends for advice. There was not a universal opinion, of course. Some had spoken to medical experts in their congregations and had been advised to close immediately. Some felt they were going to be okay and would be open on Christmas Day and then wait to see what the Advisory Committee said about it. We looked for advice from our Church experts but it took some time and the answer was to make the decision ourselves and they would support us. I felt quite shaky again. A text message came from the Scottish Government because I'm on the shielding list which told me from 26 December I should be extra careful. But what's the difference between 25th or 26th December? Why is it okay one day but not the next? I decided that it was too risky for St Fillan's to meet in the building on Christmas Day. But how to tell them, knowing how much people were looking forward to it, especially when I knew for some it would be the only contact with other people?
I didn't sleep much on Saturday night. Then at the end of the service on Sunday I told them that we would close from now. I could see the disappointment in some of their eyes, but I also saw one person nodding in agreement. That gave me hope to carry on. I explained how this new strain made things completely different and much riskier. If we couldn't spend time with our beloved families why could we come to sit in a church building? Then a voice from the back shouted out, "Ruth, you've made the right decision. Don't worry. We know you're doing it out of love for us." And then they clapped. Nearly everyone clapped. My anxiety levels dropped once more. That's where God was!
Then the next day someone on Social Media started bleating about how ridiculous it was to close churches at Christmas. A responder said clergy who did that shouldn't call themselves priests. And so it went on. And still goes on. Social media is definitely not good for your mental health. I worry that a wee knock like that will set me back again, and I really don't want that to happen. So it seems that I'm still fragile underneath the bravado. If only we could all love one another, and respect others for making decisions that are right for them and their context.
So there you have it. It took longer than I planned to share my thoughts with you. As someone wise used to say to me often, "It's difficult loving Jesus." He was and is right. And let me share one last piece of good news… we had a practice Zoom yesterday and it worked so we may gather virtually on Christmas day! Of course it may all go wrong again and Zoom may collapse because everyone in the world will be using it, but I shall give it a try.